About Two Pisces Vineyards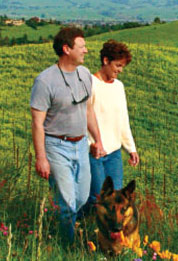 Michael Ridgeway had a vision in 2001 when he first set his eyes on the property that is now "Two Pisces Vineyard." In September of 2004, the first grapes were harvested from the young vineyard. Dan Goldfield was chosen as winemaker. The influence of the Pacific Ocean and the Northern California coastal breezes have proven to be perfect for the grapes grown at this site. Ridgeway Two Pisces Vineyard, 2004 Pinot Noir was released in August of 2006 and sold out in just four months!
Cool, foggy mornings and evenings are two key elements for growing premium Pinot Noir grapes. The climate and the soils of the Sonoma Coast make it an ideal location for producing superior quality Pinot Noir wine. The summer days may be warm, but the coastal breezes temper the heat each evening and the thin-skinned pinot noir grapes are "kissed by the breath of the sea." The long growing season creates the perfect conditions for the fruit to develop exceptional depth, flavor and complexity. Two Pisces Vineyard's grapes grow on rolling hills where the vineyard was designed and planted for uniform and perfect ripeness.
The two Pisces themselves, Michael and Teela, have personally overseen every aspect of the development and management of their vineyard since the first vines were planted. The resulting luscious, fruit forward, acid balanced wine is truly representative of the excellent wines that are coming from the Sonoma Coast and has proven that their location is ideal for producing high quality Pinot Noir.
Pinot Noir is an exceptionally "food friendly" and versatile wine. It may be paired with grilled wild salmon, fillet mignon, or braised lamb shanks with buttery, garlic polenta. It also compliments the earthy flavors of local products such as goat cheese with toasted pecans, wild mushroom risotto with truffle oil or fresh heirloom tomatoes and Tuscan olive oil.
Teela Ridgeway is the 2009/2010 president of the Petaluma Gap Winegrowers Alliance
We are proud to be available in the following establishments:
New Orleans
5 Fifty 5, located in the Mariott New Orleans
Executive chef, Mark Quitney, Petaluma native
(http://marriottmodules.com/restaurant/hotels/hotel-information/travel/msyla-marriott-new-orleans/5fifty5)
Petaluma

Della Fattoria http://www.dellafattoria.com/
Graziano's Ristorante http://www.grazianosristorante.com/
La Dolce Vita Wine Bar and Lounge http://www.ldvwine.com/index2.html
Lombardi's Delicatessen http://www.lombardisbbq.com/
Pazzo Restaurant http://www.webepazzo.com/
Petaluma Market http://www.petalumamarket.com/
Risibisi Restauarant http://www.risibisirestaurant.com/risibisi-restaurant-press-news.php
Vine and Barrel Wine Shop http://www.vineandbarrel.com/
Willabee's Wine and Spirits http://www.wilibees.com/
Whole Foods Markets
Petaluma
Berkeley
Los Gatos
Noe Valley, San Francisco
Redwood City
Walnut Creek
Santa Rosa Area
John Ash Restaurant
Gourmet Au Bay (Bodega Bay)
Mosaic Restaurant (Forestville)
Oliver's Markets (all 3 locations)
Traverso's Italian Delicatessen
Sonoma/Napa
Carneros Bistro and Wine Bar
Deuce Restaurant
Wine Exchange of Sonoma
Kenwood Inn and Spa
Terra Restaurant, St. Helena
Marin
Buckeye Restaurant
Bungalow 44 (Mill Valley)
Ludwig's Wine Shop (San Anselmo)
Woodlands Market (Kentfield)
San Francisco
6001 California Street Market
Cal Mart Super
Curbside Cafés
Martin Mack's Restaurant
Millennium Restaurant
Quince Restaurant
Wine Bar and Shop, Two Embarcadero Center
San Jose Area
Crimson Restaurant, Los Gatos
Los Gatos Gourmet
Vintage Wine Merchants
Santa Cruz/Monterey
K Wine and Spirits, Capitola
Soif Wine Bar, Santa Cruz