Sonoma Country Life
Proving Less Actually Can Mean More – A Petaluma Pinot Harvest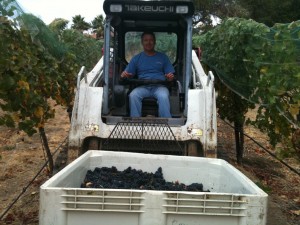 "We finished picking the last of the grapes," said friend and neighbor Teela Ridgeway after a fast paced weekend's harvest of the D Street extension family estate's premium, cool climate 2010 Pinot Noir crop. Farmer Mike Ridgeway brings in the bounty above.
As widely predicted within the Petaluma Gap micro-region: "It was a hectic but good harvest.," Ridgeway reported. "Most grapes came in around 27 brix!  We had only about 8 tons this year compared to 13 last year, but quality was really good."
As for the region's Syrah. Hold your horses for those pics, folks, for the brix count currently calls for another three to four weeks hang time.
Meanwhile, looks like a stellar crop of Tuscan varietal olives in West Petaluma this fall, best be checking up on community crush specifics over at McEvoy Ranch.